MMC Saturday Workshops
James Tanton
Saturday Workshop
PATTERNS: What to Do If You Trust Them and What to Do If You Don't!
September 17, 2022
9:00 – 10:00 am
Glenbrook South High School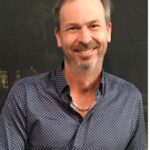 What's the next number: 2 4 6 8 __? Clearly it is seventeen-and-a-half, and I'll prove it to you this session! We all, including mathematicians, are excited by patterns, are motivated by patterns, and are informed by patterns. But we should never trust patterns until iron-clad, logical explanations for them are proffered.
In this session we'll play with patterns and learn how to find formulas for patterns – if you choose to believe them – and perform all sorts of mischief for when you don't!
This workshops require advanced registration and payment, and will be filled on a first-come, first-served basis. Register by Thursday, September 15th to reserve your place!