March Dinner Meeting
Eli Luberoff
"Technology that Thinks WITH Students, Not FOR Students"
March 1, 2019

Fountain Blue Banquets in Des Plaines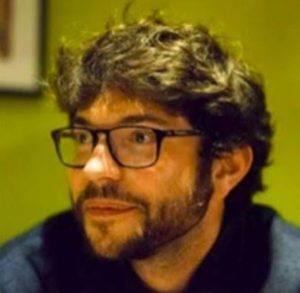 Eli Luberoff is the creator and CEO of Desmos, the free online graphing calculator and educational tool. He began his programming life on his TI-83 graphing calculator in elementary school, culminating with a working version of Monopoly (which was destroyed when he removed the backup battery accidentally). He began working on the software that would become Desmos.com during a year-long hiatus from Yale University in 2007, returning to graduate summa cum laude with degrees in mathematics and physics in 2009. Eli was also selected by Bloomberg Businessweek as one of the top 25 entrepreneurs under 25 in 2011.
For as long as Eli Luberoff can remember, he's been an informal tutor, helping friends and family with homework. Back in his hometown of Amherst, Massachusetts, he remembers occasionally doing his brother's math homework in elementary school in return for a ride to KFC. His motivation (aside from food) has always been a love for teaching. He started tutoring professionally in high school and has been a volunteer/peer/professional tutor ever since. Desmos was born out of Luberoff's own experiences as a math tutor, when he noticed that his younger students were still using the same calculator he had used in school a decade prior. "It blew my mind—because everywhere else, they're walking around with supercomputers in their pockets, but in this, they're still using the same thing," he says.
Eli has said, "Technology wears two faces. With one, it amplifies student thinking and creativity, helping them create and understand like they haven't before. With the other, it thinks and creates FOR the student, dazzling or grading them without inspiring or educating them. We'll look at easy and free technology – including handheld calculators, Sketchpad, and Desmos – that thinks WITH you and your students, not FOR them."
In the spirit of full disclosure, several of us have been trying to coordinate a talk by Eli Luberoff at MMC. He has always been open to the idea, but he is so busy that getting it on the calendar proved quite tricky. We are glad that MMC and Eli could finally sync. Don't miss this opportunity or the workshops on Saturday morning.
The March 1 dinner meeting is back at Fountain Blue, and the Saturday morning workshops will be held at Glenbrook South High School in Glenview. You must preregister for the workshops. Seats are limited, and slots will be given on a first come-first served basis.   Workshop Registration will open soon.
5:30 pm Doors Open
6:00 pm Social Hour
7:00 pm Dinner & Talk
Fountain Blue Banquets & Convention Center
2300 Mannheim Rd.
Des Plaines, IL 60018
(847) 298-3636
$43 for Members
$49 for Nonmembers
Check or cash only, at the door, please!
Reservations by Monday, February 25th, if possible
Online or 847-486-4291, day or night, leave a voicemail.