September Dinner Meeting
Sheila Hardin
What Makes a Classroom Productive? (Creating a Supportive Environment for All Students)

Friday, September 22, 2023
7:00 PM
Des Plaines Elks Club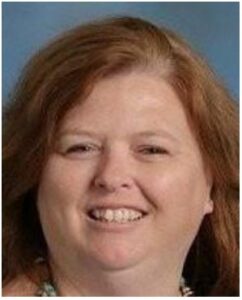 From the first day of class, we set the tone for our students. Does the environment we welcome our students into set the correct tone for what we want to have all students experience for the rest of the year? Is it physically welcoming? What do students see or feel in those critical moments? Sheila Hardin
has spent her career working, reflecting, and reworking this moment for her students. Sheila believes that we must be honest with what we are doing to foster the right environment for our students to thrive, being especially careful to create a racial sensitive space for students to work. How should we deal with students' past experiences? What data should we use? What data should we avoid? What deliberate decision should we make to establish trust? Sheila will lead us in activities and discussions that will engage us in two mathematical practices; the use of mathematical discourse and building procedural
fluency with conceptual understanding. We will explore how to get students to feel comfortable sharing ideas, wrong or right, while keeping procedural fluency, and breaking down barriers to make a productive classroom.
Sheila Hardin has taught mathematics at Oak Park and River Forest High School for 28 years and has served as MMC's board chair for over 15 years. During this time she has worked tirelessly to promote racial equity in schools and currently serves as a Racial Equity Coach at OPRF. She also serves as president of the Faculty Senate and regularly serves as an AP Calculus reader. She is one of the great members of
our organization and we are lucky to have her presenting on Friday, September 22nd at the Des Plaines Elks Club!
Please click here to reserve your space for this dinner meeting by Monday, September 18.
---
Please help us continue to provide quality professional development and consider making a donation to MMC using our Zelle address: zelle4mmc@gmail.com